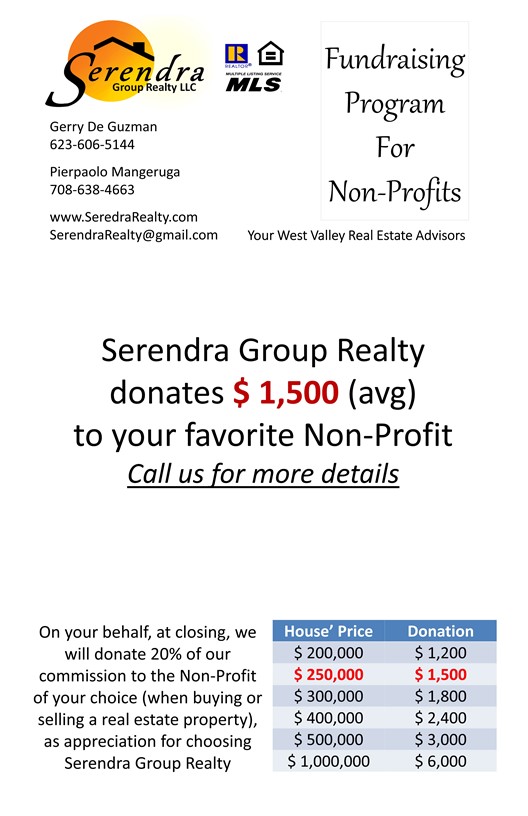 Download the flyer (2 in one page, 1 cut and 3 folds)
Read more…
Serendra Group Realty decided to launch a "Fundraising Program For Non-Profits" and we are glad to anticipate the most important information about this initiative that we think you will find supportive and interesting.
1. Serendra Group Realty donates in average $ 1,500 per transaction (buying or selling a real estate property) or 20% of our commission, at the closing, to the Non-Profit Organization indicated by the Client referred to us.
2. Serendra Group Realty will support this initiative offering to the Non-Profit Organizations folded business cards that the Non-Profit can distribute to their members, affiliates, friends, and families. Last page of the business card is blank, and the Non-Profit can customize our business card with a stamp or a sticker, so when we receive the Client, we know who referred our business and we know where to address our donation on his behalf.
4. We will also keep sponsoring this program through Social Media (Facebook, LinkedIn, Google Business, Yelp, Instagram, and Pinterest)
5. Periodically we can send reminders via e-mail to the list of contacts that the Non-Profit will be willing to indicate
6. We will also tell about this program at all the possible venues we will be active in (Chamber of Commerce Business Connection, South West Chamber, EON Grow Buckeye, Business Round Tables, Workshops, Events, etc.)
7. We will be happy to come to talk about this initiative to seminars, annual meeting, reunions, and/or meetings that your Non-Profit will organize
8. Value of our donation: in general, we get a commission of 3% per transaction (when a Client buys or sells a Real Estate Property), and we will donate 20% of that. We want you to consider the importance of this donation because other real estate firms offer 5% or 10% in the best cases, we are donating 20% of our income! Imagine how many things are possible with $ 1,500, $3,000 or $ 30,000 per year. We will accept all your referrals and we will treat each of them at the best of our professionalism, without any limitation in number. We put together the examples listed in the table above to give you a better idea.
Now, in case a Clients sells his/her property with us and buys another one, the donation will be equivalent to practically the double. Say a Client sells a house of $ 200,000 value and buys a house of $ 300,000 value, in this case we will donate in total $ 3,000 ($ 1,200 for the sale + $ 1,800 for the purchase).Anyhow, the formula we apply for our donations is the following (where generally the commission is 3%):
Value of Transaction x Our Commission % x 20%
9. We start to anticipate our flyer (see point 3) that is a perfect copy of our folded business cards for this initiative. Feel free to print it and start distributing. It's made in a such a way that when you print in letter format, it prints 2 flyers at the time. You simply can cut and fold.
10. If you like and support our initiative, which in the end is in favor of your Non-Profit Organization, we will be happy to meet you and hand-out (or mail) about 20 of our folded business cards. We will give you more upon your call.
11. This initiative will be active from now on and we don't put a limit to this initiative neither in terms of time-frame and in number of transactions that your Non-Profit will be able to refer us. In case, in future, for internal reasons we'll decide differently we will inform you adequately.
12. We are transparent, so as soon as we receive one of your referrals, we will inform you and we'll also inform you upon a good end of a transaction, so you will know what to expect as donation.
You sponsor our business
and
we donate good money to your Non-Profit Organ